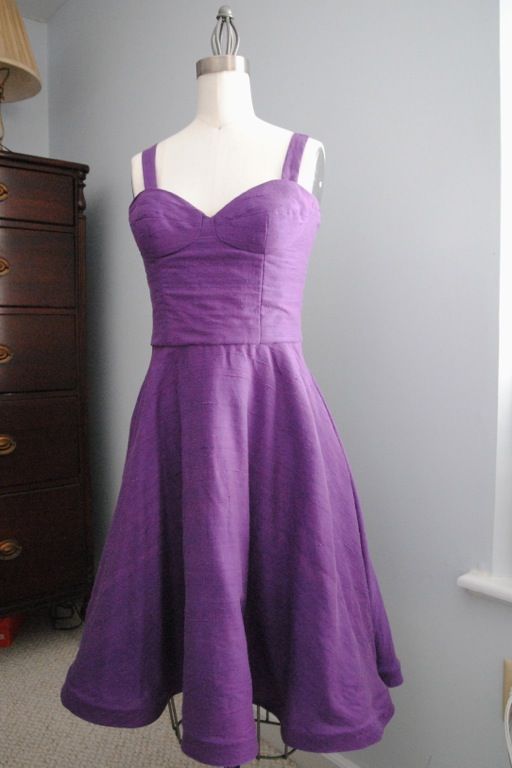 Here it is! Only eight (crap, really eight?!?) months late. Better late than never, right? Right. As a short recap, I enrolled in
Gertie's Craftsy
course earlier last year to make myself a bridesmaid dress for my good friend's wedding. I did have a purchased back-up dress waiting in the wings just in case this didn't come together. I was stitching the straps on this dress the day of the wedding :)
The Craftsy class was well worth the money. It was a great class and Gertie was a fantastic instructor, which was not surprising. It was not a fast process, but very thorough and very informative. The only gripe I had about the interactive platform is I felt there was a substantial amount of lag time between questions from students and answers from Gertie herself. I know she is only human and everyone's lives get busy, and perhaps it was only during the time when I took the course. Maybe now it is different. Honestly, it still wouldn't keep me from recommending the course to anyone. I know I already said it, but it was a great class!
The original pattern, from
BurdaStyle
, has a draped front slim skirt that I chose not to use. Instead I used the BurdaStyle
Linda skirt
, which is a simple circle skirt, and attached at the waist seam. I probably could have drafted my own, but this pattern was suggested by Gertie to use, so I did. It seemed the wisest thing to do to keep any mistakes at a minimum. I used a dupioni silk that I had to dye the right shade of purple. Dyeing silk had its own
learning curve
.
The original swatch of silk
Since I am not a super busty person, I added more padding to the bust post-finishing the dress, which I have since removed. Good thing it was there, because holy....cow! Look what I found when I went to take photos this morning:
Crazy, right?
And if you can't tell from the photos...that is a pin. Yes, a PIN. Aimed directly at my small, but tender, chestal region! Thankfully, there were no casualties during the wearing of this dress. In order to get that pin out I will have to rip open the cup seam and remove it! Just. crazy.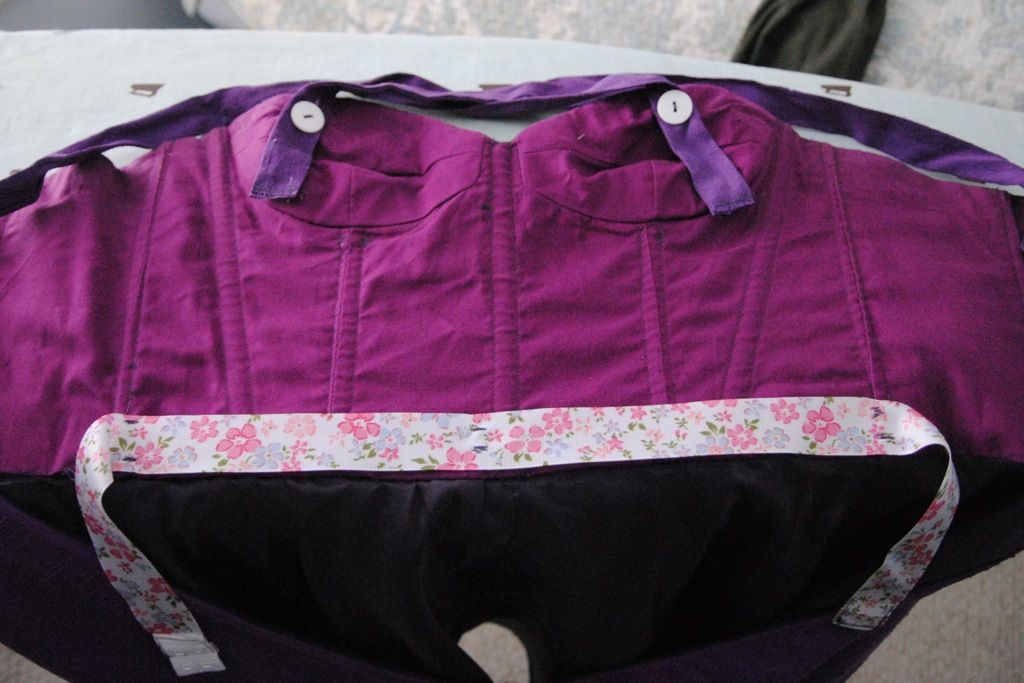 And....anyway. As to the inner parts of the dress, you can see I lined in cotton, but it is underlined with muslin as well. The boning is spiral steel boning, which was the first time I had ever worked with it. It sounds more difficult than it really was. And it really made the dress feel solid and sturdy, in a good way. Even though there are three layers (and boning) in this dress, it was still surprisingly comfortable and light to wear. The waist-stay, the floral ribbon in the pic above, which helps distribute the weight, was really helpful.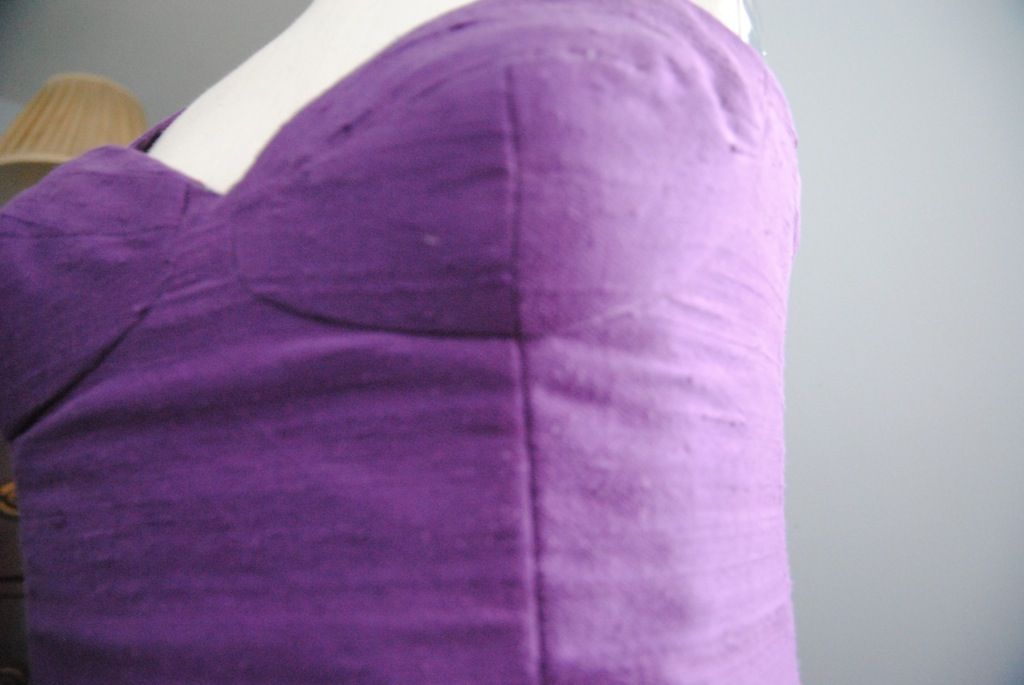 Sorry — weird angle, a little blurry, but look at my seam matching. That was the most difficult seam I have ever sewn!
The Linda skirt fit perfectly to the waist pattern and I think the end result really did look great. I ended up adding a lining for the skirt and in-seam pockets. Because all dresses should have pockets! As far as adjusting the bodice pattern, the only thing I had to do was to lower the waistline of the dress, which seemed a common alteration for the rest of the class as well. My straps were a bit closer-in than others, but that is what looked the best on my frame. As you can see from the inner pic above, they are removable.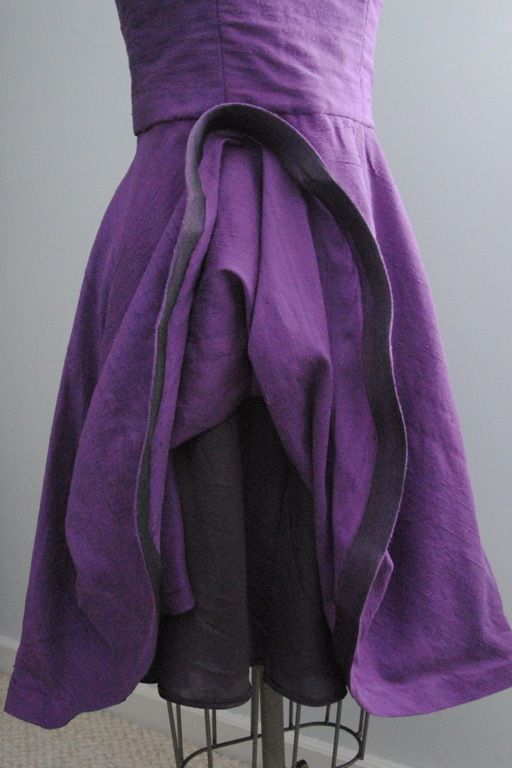 Skirt lining and horsehair hem
I added horsehair braid to the hem, which gave great body to the hem. The only thing I would suggest is to keep an eye on it, if you use it. My fabric was so light (or it was so delicate the braid would catch?) that it kept flipping up. There are about a dozen photos of me during the reception with just a few inches peeking up.
The last thing is the zipper. Ah, that...zipper. Instead of the lapped zipper, I went with an invisible zip. I know it isn't period correct, or an easier option but it was a last minute decision. Well, this decision would come to bite me in the butt. How? By constantly getting stuck at the same position every time I put the dress on. I think there were too many layers for the zipper to handle, or at least that is what I am sticking to! The day of the wedding, I thought I would have to go down the aisle like this:
My sister spent fifteen minutes trying to zip me up. I was on the verge on having a breakdown. Luckily, the bride (yes, the bride!) was able to do it. Right before her pictures. It was kind of awful. I was sweating and terrified that the zipper would just be pulled completely out. But fate was kind and the zipper finally gave in and zipped up. I tried to get it to work for the photos today, but nope. I think the wedding day was the death of that zipper. I will have to go in, rip it out and install a new one. I guess while I am in there, I should take out that pin! Maybe it all happened for a reason ;)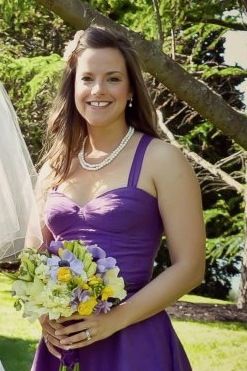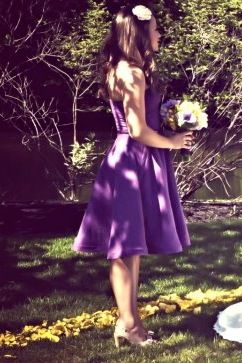 So there it is! What do you think? Have you ever made a dress for a wedding?