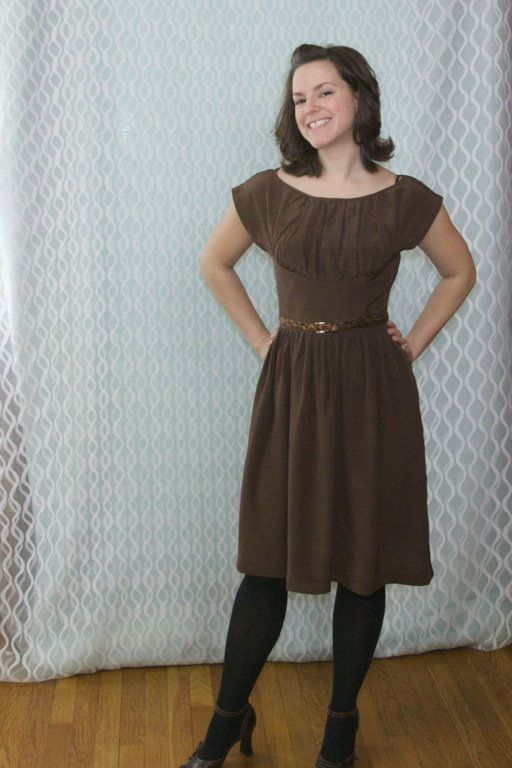 Well, my Gathering Glory (aka Vogue 8728) dress is done! Hooray! Just to warn you there are quite a few photos in this post. And I am in almost all of them! I will hopefully get invited to another fall wedding next year and get to wear it, if I can't find something to wear it to before. Remember that
"pride"
feeling I was talking about yesterday, this is what it is about, for I am pretty delighted with how it turned out. Although, even with all my
planning
and muslin-ing it still needs some tweaking. But that is okay, because cardigans will be this dress' best friend. Good thing I own a million of them!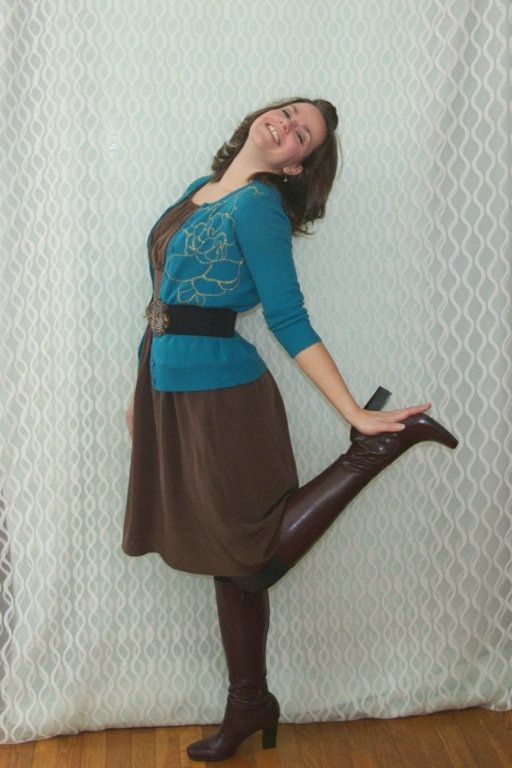 This fabric, a crepe de chine, was a dream as much as it was a nightmare to work with. Maybe nightmare is too strong of a word, for I didn't lose any sleep or hair over it. The good part is that it is amazing to wear. It feels like, well, silk! Ha! Seriously, if one could wear a light coating of butter, this is what it would feel like. That sounds kind of gross, but it just slides over your skin and makes you feel ah-maaazing! And the color is just between a milk and dark chocolate. Are you sensing a food theme? I must be hungry. The bad part was what I mentioned previously: it was a slippery sucker and would want to shift while sewing. And being such a delicate fabric, I had to be very cautious about pins. Any pin would leave a hole where it lived, even if only for a short while. That was pretty challenging when doing the neckline binding. Pinning in the seam allowance was the only way to go for most of the dress, but sometimes it just had to be done.
Okay. On to the nitty-gritty photos. It seems very blousy at the upper back, but when my arms are outstretched in front it seems like enough room. I am concerned that if I took any fabric out, it might be too tight. Unless I never want to put my arms out? I guess that would work ;) You can also see how the fabric pools at my waist/lower back and I am pretty sure that if I had done a sway back adjustment that could have been avoided. I was so concerned about the gathering of the bodice front being too much that I gave little attention to the back. And from now on, I need to either photograph myself from the back or have a real-live person critique it. Straining my neck to see the back in a mirror is not working. Clearly: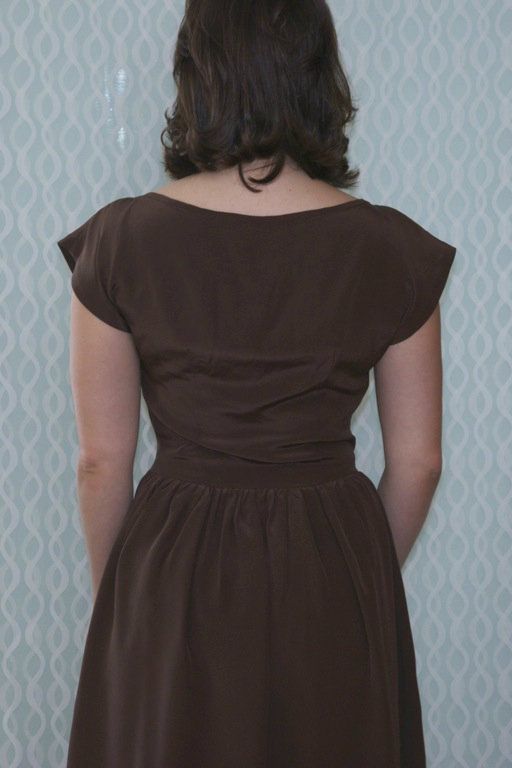 Also, should I make this again, I think I will take some width out of the neckline and make the sleeves just a wee bit smaller. The neckline is *just* covering my bra straps, and they were pretty wide-set. Also, I felt like I was always adjusting it to lay right, so I think if I made it a little smaller that would help. Since I cut the smallest size for the top, I will need to do some pattern surgery to make this work.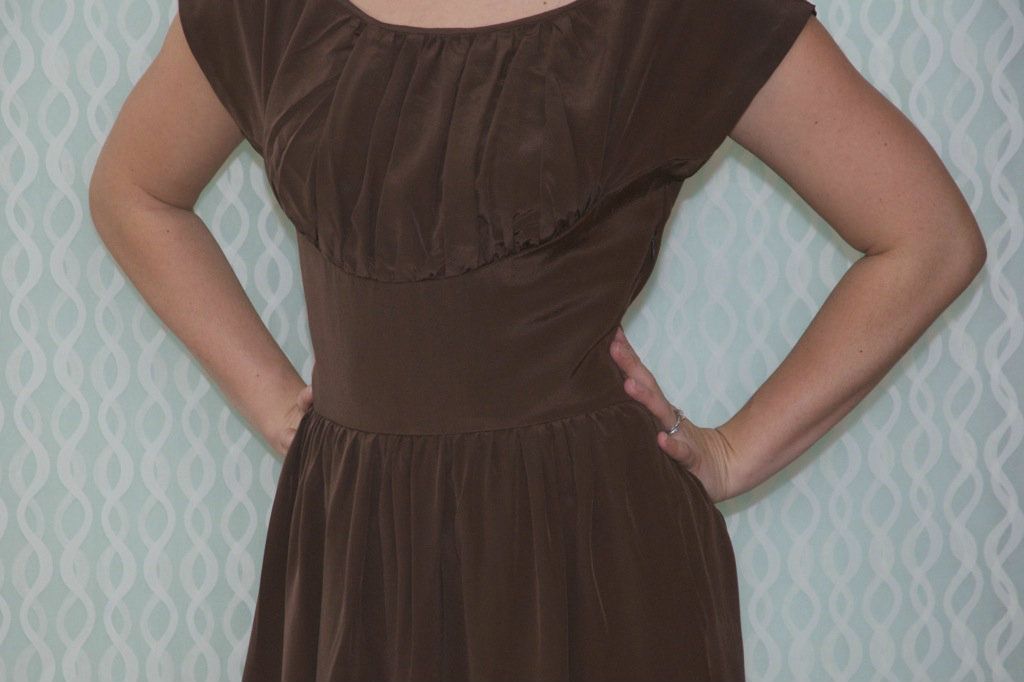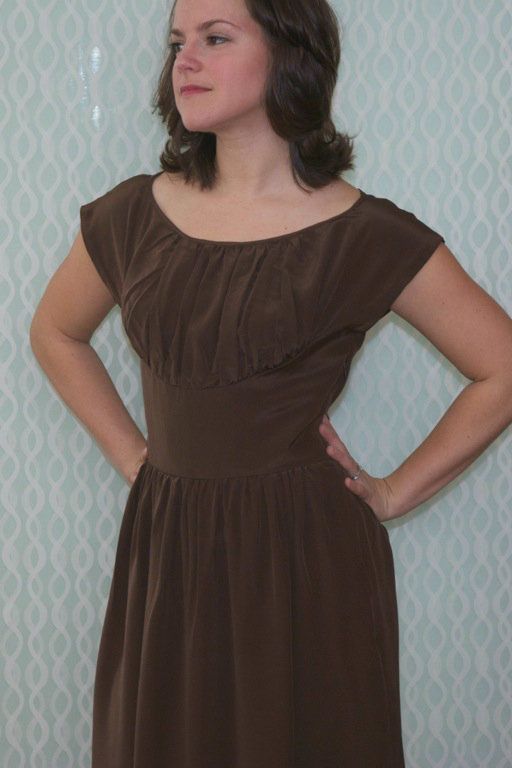 What a dreamy expression, I must be thinking of chocolate. Or butter.
I was (and still am) concerned that it is just too much brown, so I think it needs to be broken up with a colored cardigan or fun belt. The above photo confirms that for me.
So, all in all it was a pretty easy pattern and I think I will wear it with such said cardigan/belt. I think I made this pattern more difficult by using a tricky fabric and deciding to hand stitch a lot of the seams, like the sleeves and the hem. Next time on crepe de chine, I think I will just do a narrow hem instead of a catch-stitched hem. Oooh!! I almost forgot to show you what I used for my hem! I found a spool of this stuff at an estate sale and got three spools of it. I don't know if it will completely disintegrate when I wash it, but who cares! It is too cute!!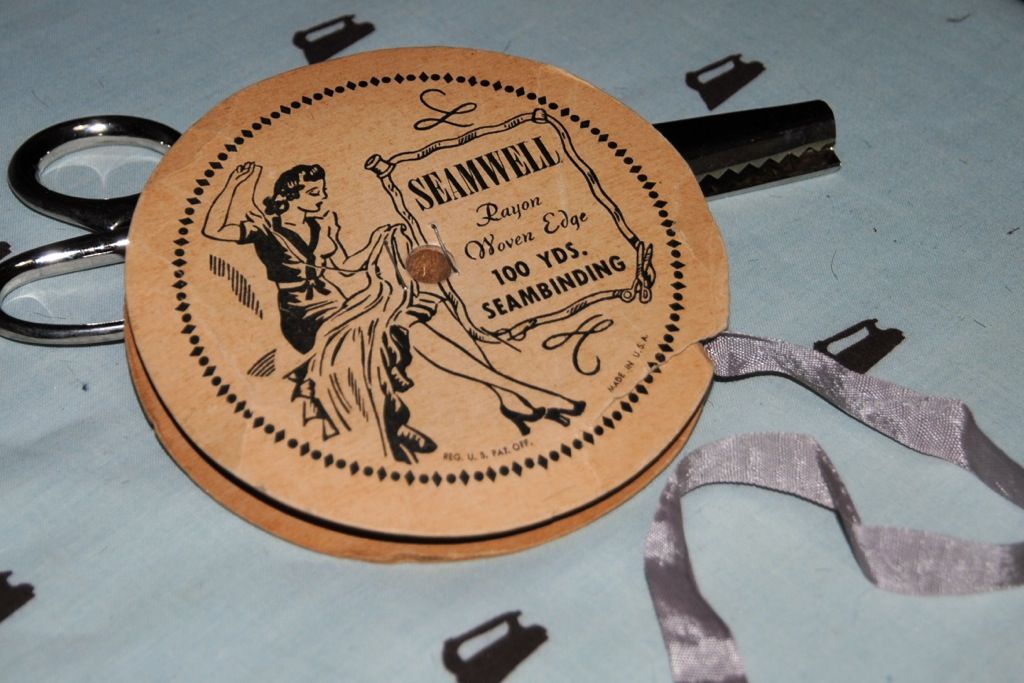 So my first project for 2013 is done and I have my next one on deck!!