A couple of months back I went to my first flea market. Well, my first American one. While in Rome we went to Porta Portese, which is kind of crazy. Crazy busy; people pushing and shoving to get to tables laden with cheap pillows, outdated curling irons and new (but old-stock) sneakers. There was some vintage/antique stuff there as well, but furniture and paintings ranging in the thousands of euros. It was either super pricey or super cheap. So I was naturally very curious at what it would be like here.
On my first trip I was pretty cautious, I only purchased a few things, but I noticed the difference of the two immediately. We paid one dollar to get in and it was worth it. I will say, and maybe this is the one we went to, there was a much higher amount of vintage goods, and well-priced vintage goods, than the stalls selling, you guessed it, pillows, soap and cheap clothing. There were still plenty of those, but not nearly as many. I only bought three items there that day. A cool dual-wheeled tracing wheel, a glass bracelet and a hemming gauge. The hemming gauge was the last thing I bought at the end of the day, got it for a really good price, and was really excited about it!
I have been searching for one that looks like
this
, which sold last year :( See how it has a little pad for the pins to go while you are hemming? That is what I want. So when I found this box, I was so excited. I even opened it up before I bought it and saw this: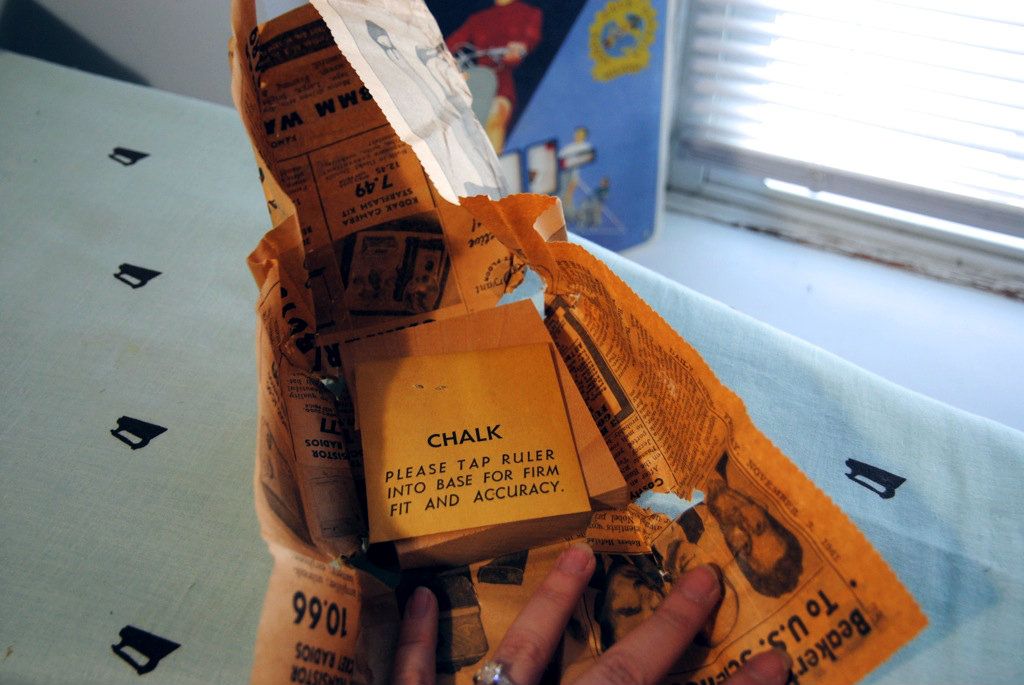 When I finally got around to using it, I opened it up all the way and saw this:
Can you see it? Can you tell the problem? It looks like the ruler doesn't fit into the base. Right? At first I assumed
that the original got lost and someone just made this one out of a random block of wood. I was a little upset, but then when I was looking at the photos I took for this post, I noticed the writing on the chalk envelope, which says, "Please tap ruler into base for firm fit and accuracy".
So. I decided after my first draft of this post, which was singing my woes of an adorable hem gauge that I thought didn't work, to test it out. Tomorrow. Bwah ha ha ha! I know you are all at the edge of your seats!! ;)
Stay tuned for the exciting and thrilling conclusion of the Flea Market Find or Folly!