Right now I am traveling, so I thought I would be productive with my travel time :) That does mean you will all have to deal with my not-so-hot photos. I wish I could have retaken them, but I didn't have the time. I really only got one good shot! So without further ado:
Not the greatest picture, but it is something!
Ta-da! I know I am kind of late on the Ginger train, as it seems like everyone in blog-land has made one! After seeing all of those cute ones out there, I knew I needed one for myself. Since this was going to be a my first one, I chose just the plain Jane version. No fancy waistband, no western pockets. Just plain Ginger. Denim flavored.
Above was the only real shot that I got of me in my skirt. Do you see the awesome wrinkles? That was because I had already worn it out that day! Not my favorite facial expression, but this was my first time using the self-timer. Clearly I need to work on that. And as I stated this was the best of the lot! Wanna see my favorite: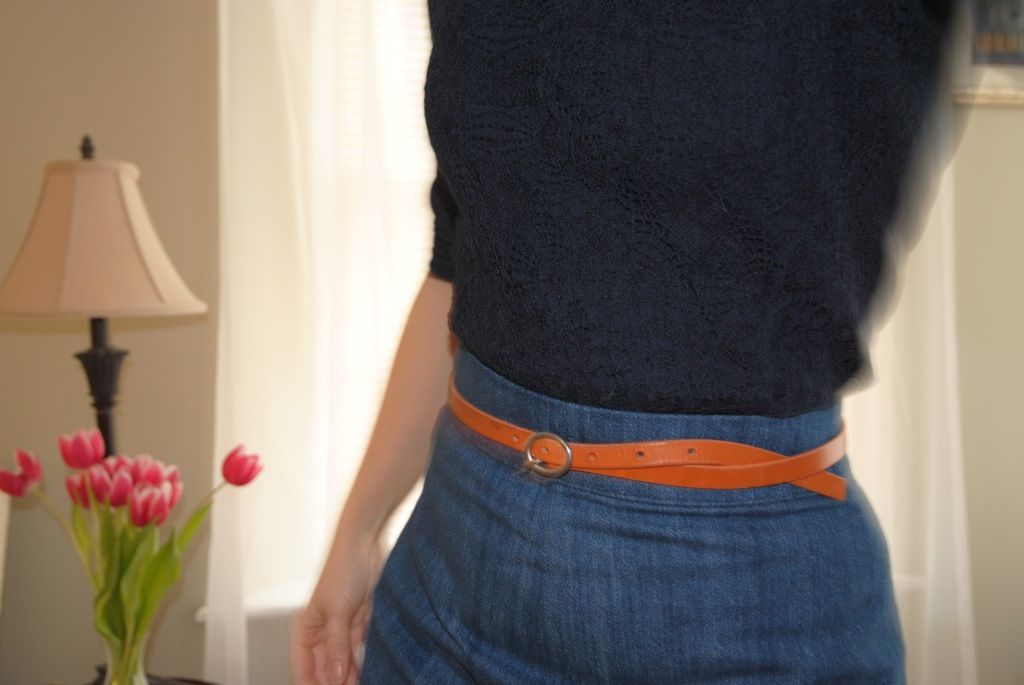 This is my "in-action" shot! I must not have had the timer on, oops! You can see the lace in my top better here, but as for a full Ginger shot, not so much.
I followed the pattern pretty much as it was written. I used a medium weight denim that I purchased at Joann's a little while ago. I decided that this was going to be a wearable muslin since I spent little on the fabric, and if it turned out horribly I could adjust the next one. The denim is a fairly bright blue, the shot above shows the true color much more than the other pictures.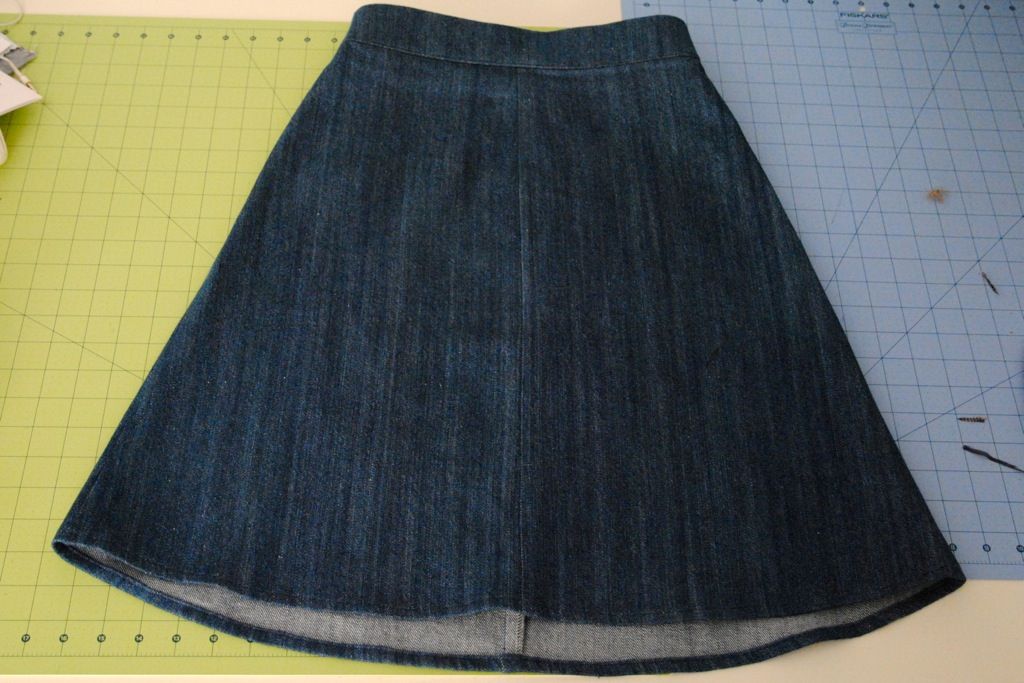 The thought of facing denim with denim sounded really bulky, instead I used a cute polka-dot cotton from my stash. I did fuse horsehair canvas to the waistband for interfacing, as it is high waisted I wanted enough structure to keep it looking good after sitting/wearing throughout the day.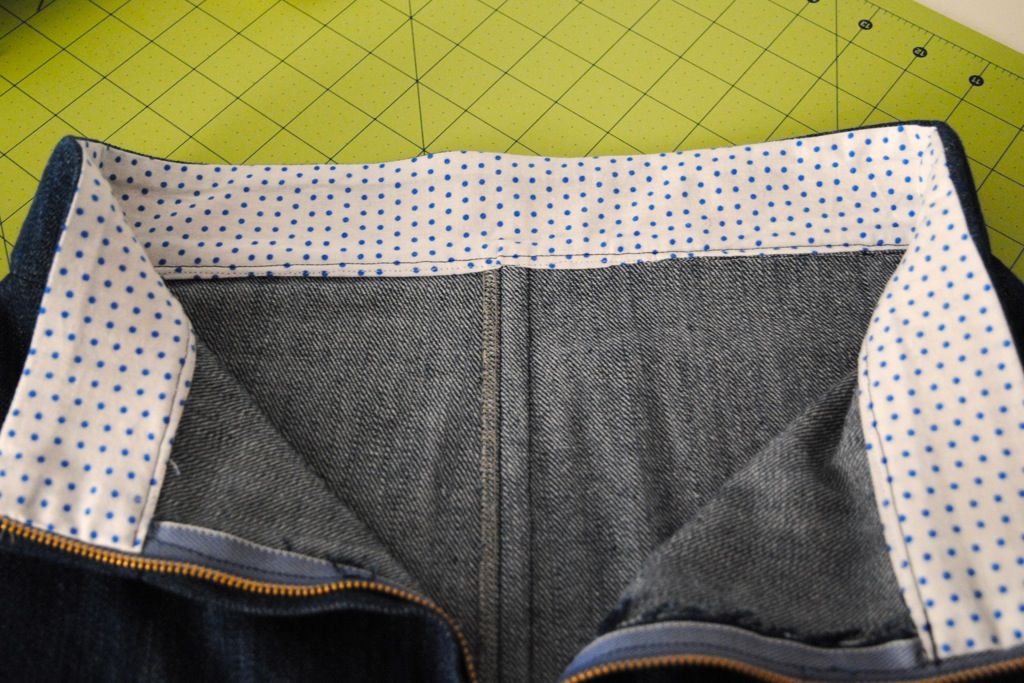 The weight of the denim also steered me away from an invisible zipper. I decided that an invisible zipper would just be trouble due to all that thickness. I had purchased a jeans zipper the day I got my denim that was on clearance for .50! I used that here. I imagine if you were using a cotton or something lighter for the skirt an invisible zipper wouldn't be a problem.
Using a regular jeans zipper meant that I had to do a lapped zipper for the opening. This was fine except when I got to the waistband facing. I attached the zipper, then realized that I would have to change the way the facing was attached. Or I couldn't seem to figure it out! The way the pattern has you attach the facing is nothing short of genius, when using an *invisible* zipper. I could try to explain, but here is a much better explanation by way of a tutorial on the
Colette blog
. Since I did a lapped zipper, I couldn't figure out a way to put the facing on without just sewing it the normal way. I attached the facing to the waistband, right sides together, and then top stitching the facing down. If anyone has a better way to deal with facings and lapped zippers, I am all ears :)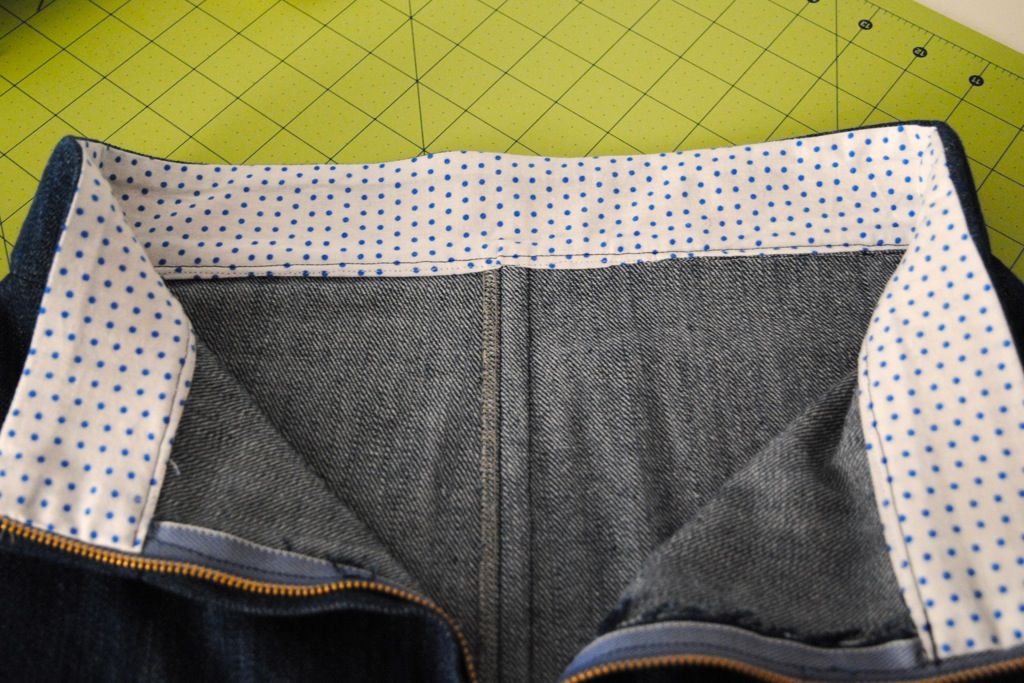 For the seams, I used a mock flat felled seams. I used another
tutorial
graciously put up by Colette patterns. I used my serger to finish the seam then stitched it down. I think it looks great from the inside. Next time, I will try to remember to serge the center back pieces before I install the zipper. I forgot to do that :) But check out my other seams!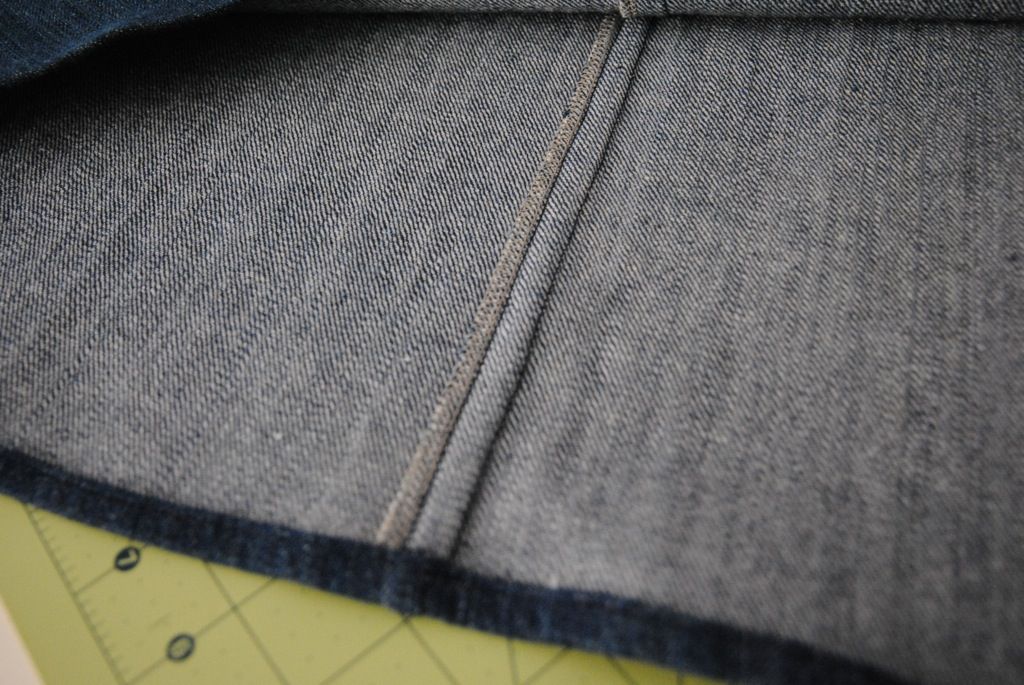 Pretty, right? Overall, this skirt took me a couple of hours, spread out over a couple days. It could most definitely be done in one day, as long as you know the fit will work. And I think the fit is pretty good for me! The waistband gets a little tight, but that was only after I stuffed my face at lunch :) This is the second Colette pattern that I have made, and I am happy with it. It is an easy enough style that I can make other versions without hesitation. I still have to sew one with one of the fancy waistbands. Just getting one Ginger made (it has been in my sewing queue for quite some time) is quite a feat. Mission accomplished!
Does anyone else have a Ginger in their closet? Or something in their sewing queue that has been there long? :)
Have a great Friday!