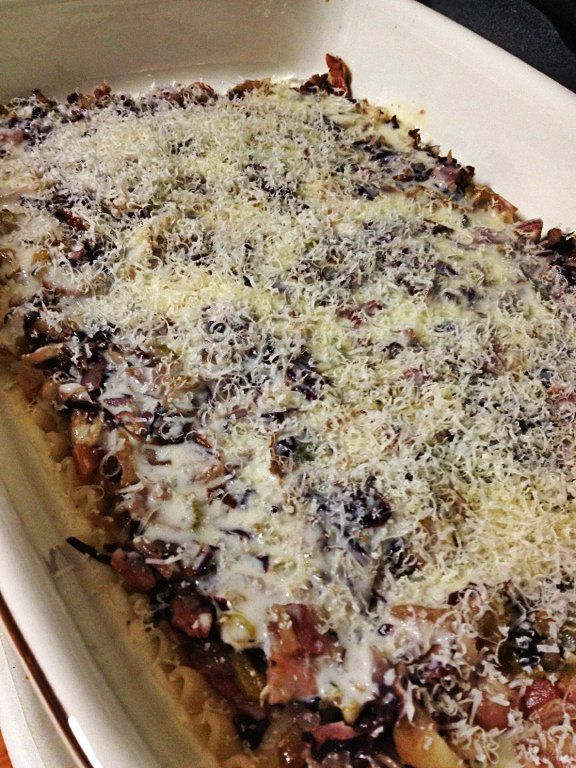 When I first made
this
recipe from Epicurious we were living in Rome. I got fresh sheets of pasta from a shop around the corner from our apartment and the radicchio and Taleggio from the market, on Via Ozanam, further up the hill. This time around it was a bit different. As of August I have stopped eating gluten. I am not celiac, but gluten-sensitive, I believe. Lasagna was one of those things that I thought would be difficult to do gluten free. Especially this lasagna with its floury-taleggio-bechemel sauce. Come to find out, it is not forbidden. It was actually *really* delicious. All it just took was a little faith and determination - and five stores later to find gluten free lasagna noodles!
If you eat gluten, by all means, just use regular lasagna noodles and flour for this recipe. If you do not, trust me, it will still be fantastic.
If you are not familiar with Taleggio. Let me introduce you! It is a northern Italian washed-rind cheese. Washed rind means that during the aging process the rind in essentially washed (cleverly named, eh?) with brine or alcohol. If you can't find Taleggio near you, you can substitute Fontina or Raclette. Worse case scenario you could use Gruyere or another swiss. It won't be as earthy, but would work in a pinch. If you can't find pancetta, or don't like it, bacon or salt pork would be a good sub. Also, if you are vegetarian, you can just leave out the pancetta! The stars of the show are really the radicchio and the cheese.
Also, another note about the recipe. It calls for Treviso radicchio, which is prevalent in the same regions as Taleggio, but much harder to find here in the States. I used Chioggia radicchio, the small ball variety, which is the more common at our grocery stores in the Northeast. It says you can use red endive, an option that I have not explored. If you do, let me know how it goes!
I won't rewrite the recipe, here is the
link
again, as the only things I changed were swapping the gluten ingredients for gluten free. I used
Tinkyada
lasagna noodles and did what the recipe instructed, which was to put them between sheets of plastic while waiting for the rest of the fillings to cook. It actually worked surprisingly well. For the sauce, I used a flour from
King Arthur
, whose GF products I have been impressed by. I just realized that I skipped the breadcrumbs as well. Oh well. Next time, which will be soon :)
Have a great weekend!