I leave for Texas on Thursday. I am at work all day today and all day tomorrow. I am on a sewing mission! Remember when I started talking about
making a dress
for my sister's birthday last week? Well, I went a head and muslined this patten, McCalls 5668.
I thought I would have some of last Friday and Saturday to sew, but for those who don't watch the news, here in New England we got a blizzard. A blizzard. Awesome. It was so bad we ended up staying at my parent's house Friday and most of Saturday (lots of food, booze and a generator but no sewing machine!) Sunday I did my best to catch up, but I am still unsure if I can get it done. See, I am even blogging at work so I don't have to do it at home and take up precious sewing time!
Let's talk muslin. The original bodice was a bit big, even though the pattern size (12) is my bust measurement. I know it is somewhat part of the style, and there is a lack of crazy foundation garments, but this was way to long and the sleeves were way too big. Because it was so long, the lower midriff started too low. I had to reduce the length of the top by almost 3 inches! So out came a chunk of the middle, and a sliver off the shoulder. I don't have a shot of the back, but that was a mess. I do have the original muslin that I worked off of, so I will show that when I get back next week. Here is shot of the original before and the (bad, blurry, off-kilter, I know!) altered muslin:
Also, please disregard the all the crap behind my dress form. But even blurry, it looks tons better!
It is an unlined dress, but since I wanted to make this out of black wool it needed to be lined. I went out on Sunday and bought the lining after finishing the final muslin of the skirt. Now I am on a race against the clock. Yesterday, instead of posting my goals, I spent 6 (intense!) hours behind my machine after work. Am I done yet? No. Here is what I have left:
Handbaste the lining skirt together (here at work. I don't care, this has to be the perk of owning my own business)
Sew skirt lining together
Attach skirt lining to skirt (thinking of just machine basting to waistline seam)
Insert zipper
Hand sew lining to zipper tape and skirt seam (covering all my seams)
Press sleeves seam allowance in and sew the lining to sleeves
Hem!
Wear to dinner Friday night
It doesn't seem like much, but it will take some time. I wish I had taken a picture of what it look like so far, but for now you will have to do with my camera photo of full muslin: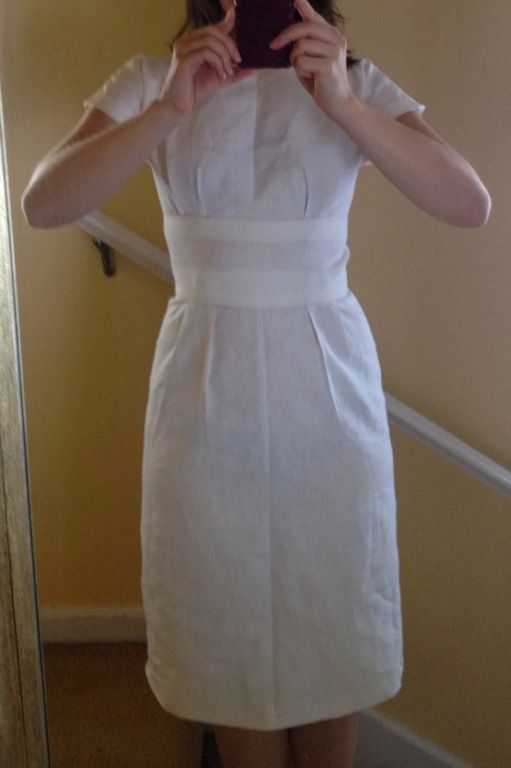 If you have any fitting recommendation you better speak soon, or forever see pictures of this exact dress in black wool ;) I will post a full description (with better pics) later, I promise!
Does anyone else give themselves crazy deadlines too? Make me feel human, come on and speak up!