Yay! I did it. Even after deciding to make this a week before leaving for my older sister's 40th birthday in San Antonio, Texas, I was unsure if it would ever get done. It took much more time with the muslin stage than I was hoping, but it was so worth it! Now I have a cute black wool dress, that I think I can dress up or down to work for whatever situation. Now on to some of the details.
I used McCalls 5668 which looks like it might be from the mid or late 50's. I had to do
some tweaks
to the pattern to make it work, but I love the final results. Once I got the pattern down, it was pretty easy to sew. Two pleats for shaping the bodice and the skirt, a snug midriff to emphasize the waist, and four darts for shaping the skirt. Simple but effective.
I used a black wool that my mother had bought me two years ago from Joann's suiting section. I am trying to use up my stash and this cut into almost the remainder of the yardage I had. It pressed beautifully and really was great to work with. The drawback — after I was done, my ironing board and floor were littered with a film of fine black wool dust :) Besides that it was great. And the dress is very warm yet breathable.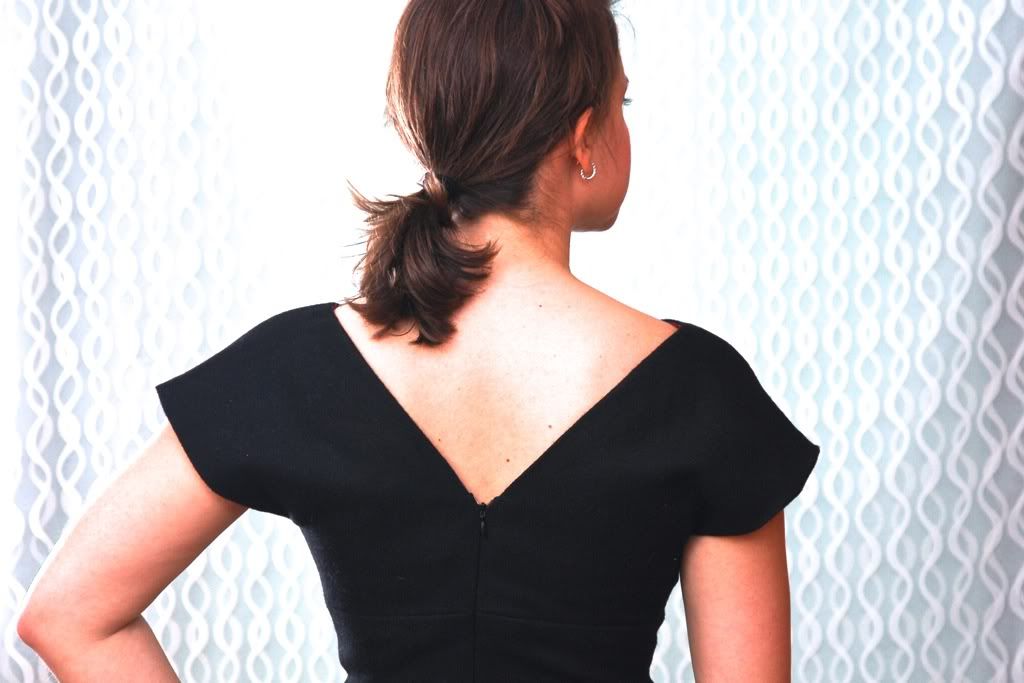 Since I went with wool, I decided to line the whole dress. Otherwise it seemed way too itchy! I cut and sewed a separate bodice and skirt out of a red bemberg rayon (named Tango!) The bodice was machine sewn to the back V and front neckline and then under-stitched to prevent it from peeking out. I attached the lining by hand at the zipper and the sleeves. The skirt lining was attached to the skirt waistline seam and then I hand-stitched where the bodice and skirt met. The pattern called for facings, but instead of using the wool (which I thought would be itchy and bulky) I just cut the facings from silk organza, attached that to the wrong side of lining. This provided a little more structure around the neckline, V-neck and sleeve openings. I think this was a great option and provided just enough structure to the lining and to the wool and also still made the dress breathable.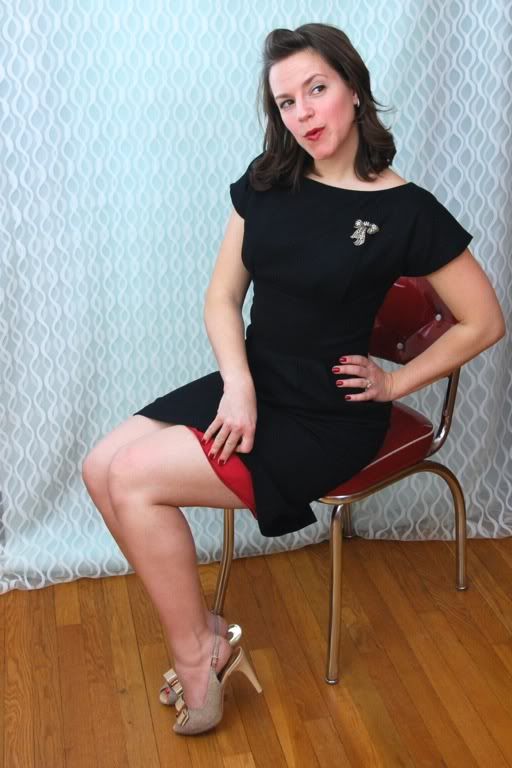 There are a few things that still need tweaking, but I am not sure how to address them. If you look at the picture below you will see that I still have some wrinkling on the midriff and in the upper back. But I am told that if I fix that I may to be able to move my arms! And that is necessary for a dress :) If anyone has any fitting suggestions, I am always open to ideas!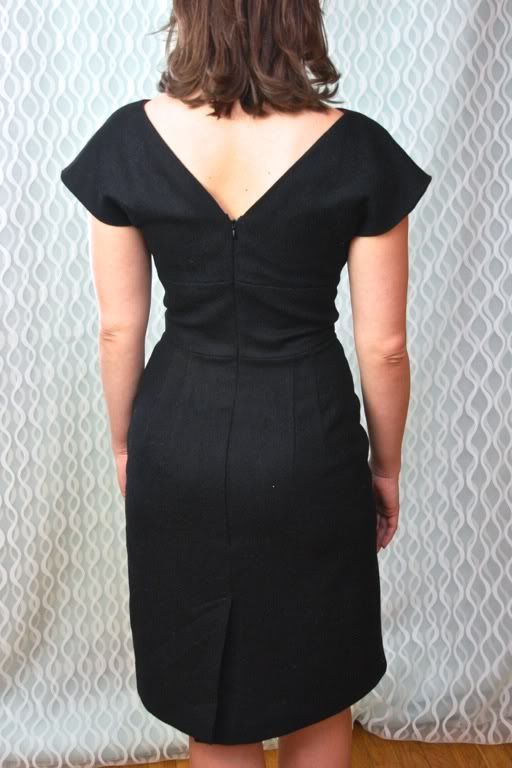 All in all, I think it is a great addition to my closet. It was easy to sew, and would have been even easier if I hadn't decided to fully line it. Oh, and the name. Did you get it?!?!? I thought it was super clever. Spur. Like Spurs of San Antonio, where I went to wear the dress! And I had to make it fast! Okay, maybe a little to complicated than clever. Whatever, I still like it ;)
Have you ever finished something that you thought was a goner? What kept you going? Go on, and tell us!
Have a great weekend!