Simplicity 1787
is practically done! It is done in my book, at least. It is missing the hem and the zipper is only half in, but you will read why. This was made for my niece, who requested this dress when she saw it. Actually her exact words were, " I want to be her!", pointing to the girl on the left. Boots and all. I told her my skills as a cobbler weren't up to snuff yet. She asked for the *exact* same fabric as the girl. I tried to convince her of branching out, but she wouldn't hear of it. Luckily my local Joann's had some poly suiting fabric that looked similar enough. I will agree it is not the first fabric that comes to mind when thinking of a six year old's dress, it is much more "grown up". I think this is why she loved it.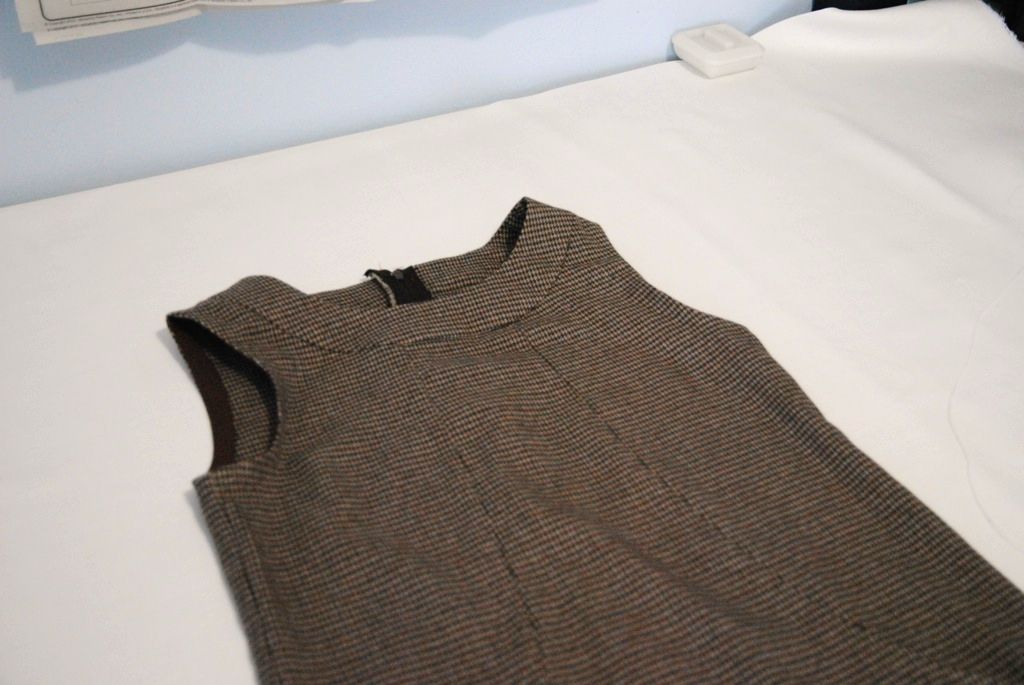 The pattern is an unlined jumper-style dress with center in seam pockets and options for sleeves, piping, mock-binding (not to sure about that one since I didn't use it) and fabric flower. While looking for patterns for her it was hard to find things that weren't too frilly or too overly little-girl. My niece is girly, yes. She loves pink and purple, but in a much more modern style. The whole Project Runway kid's line is exactly what she likes. The only other line that seemed to come close is the Hannah Montana line, which apparently is heading for the hills. It is listed in the "soon to be out of print". Hopefully something else will take its place.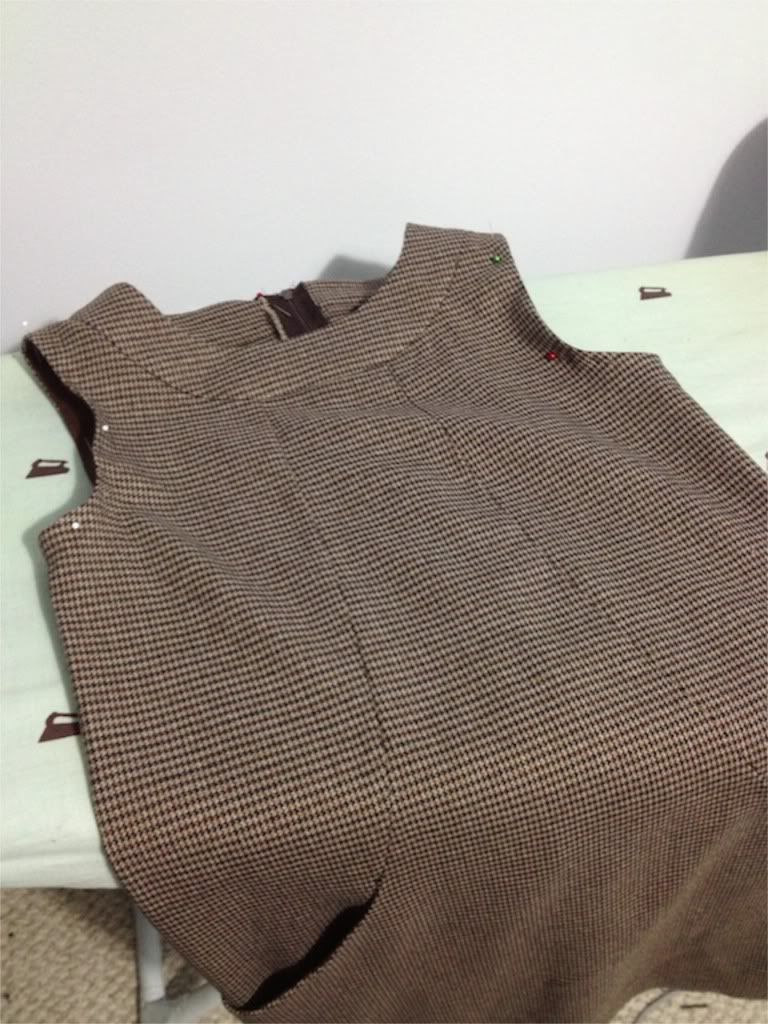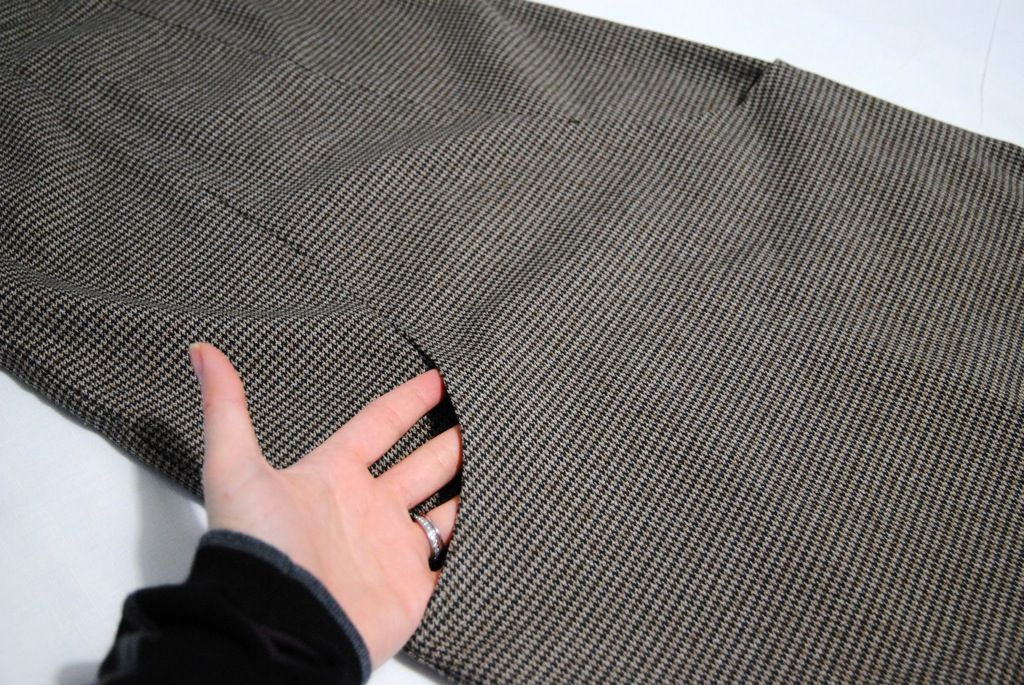 Instructions were good. Unlike some of the Project Runway patterns, the options on this pattern are similar (basically just sleeve or embellishment changes) so there wasn't too much confusion trying to find where I should go for the next step.
The construction itself was fairly simple. Three pieces for the front (not including pocket facings), and two for the back with a center lapped zipper. The pattern uses facings for the neckline and then bias tape for the sleeves (the sleeveless option). I was super lazy and decided that I would just use the fashion fabric for the facings and pocket lining. This decision turned out okay. The neckline is not too bulky, but if I were to do it again (and I am) I would use just a cotton broadcloth for the neckline and something silky for the pocket lining. Even though it is a poly suiting, it uber-soft, so the pockets are nice and toasty warm! I interfaced the facings with a thin fusible interfacing I bought in Rome. I would love to give more information on it but I have none. I can just tell you that it is the bomb!
One thing that I was unsure of is how to finish the seams. As I said the suiting was a poly thin-ish weight that liked to fray, so my first thought was to serge. Now, how do you serge? Before you sew the seams? After? Always together or single seam? I am still a newlywed with my serger and I am still trying to figure it all out. For the first seam of the front (the left side to the front center panel) I decided to press open and serge both seams separately. This, I would not do again or recommend. It seemed really bulky with my fabric. I imagine it would have been worse if I had serged them together! The second seam (the right side to center front panel) I just pinked. I think that looks ten million times better. Although, I am sure I am the only one that can tell the difference from the two. Any thoughts on what is right or what you would have done? I did end up serging the side seams and pressing them to the back, and then I serged the zipper opening before inserting it.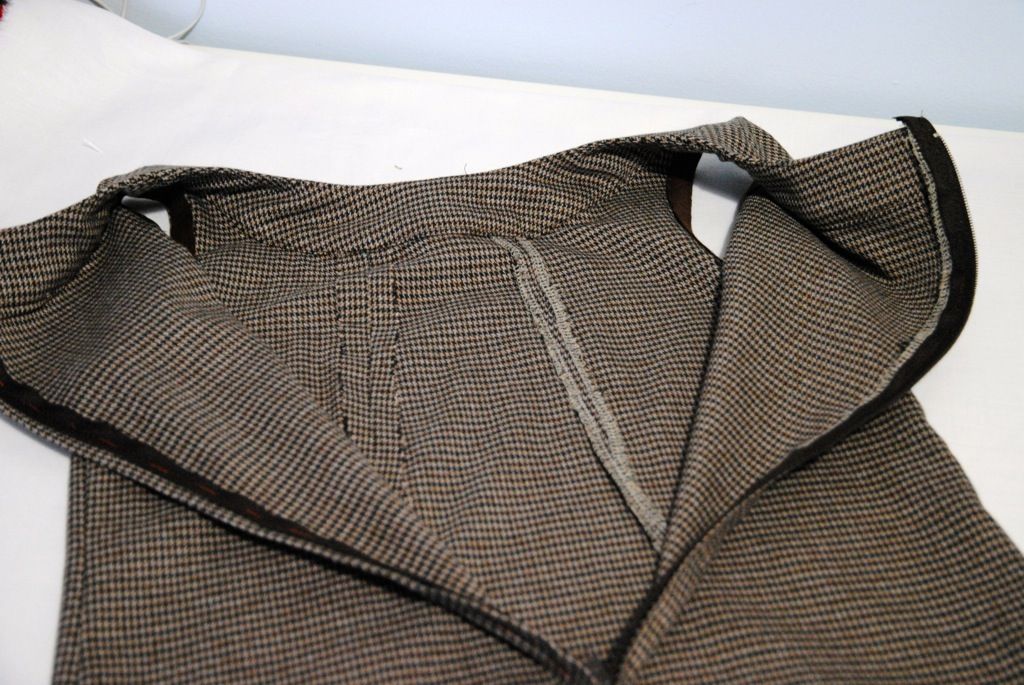 Speaking of zippers. Let me just state for the record that I am bad at lapped zippers. No, that is not true, I am average at lapped zipper. I think I just don't like them. Everyone complains about invisible zips, but I have had more luck with those than lapped! Maybe I need more practice, or something. So the lapped zipper I did, begrudgingly. Also, that zipper tape is so scratchy and ugly. Any thoughts on trying to make that prettier or softer? Here is a shot of it:
It is just basted in for fitting, hence the orange thread
The only area that I strayed from the directions on is the sleeve finishing. As you can tell I did the sleeveless version of the dress. This calls for 1/2" single fold bias binding. It has you place the crease on the seam line. Now, I have always lined up the edge of the tape with the raw edge, and in retrospect I should have just cut the seam allowance down. Instead I awkwardly pinned it 3/8" in from the edge. Then you sew that on the right side and then fold it inside basting the edge of the tape to the wrong side of the dress. Then, it has you topstitch on the right side where you baste, which is about 1/2 from the edge. Did I lose you yet? So. This, I think is ugly. Maybe it is just me, but I thought stitching it by hand on the inside looks much more professional and RTW. Maybe they are just trying to make it easy for the home seamstress? Who knows, but I went with hand stitching.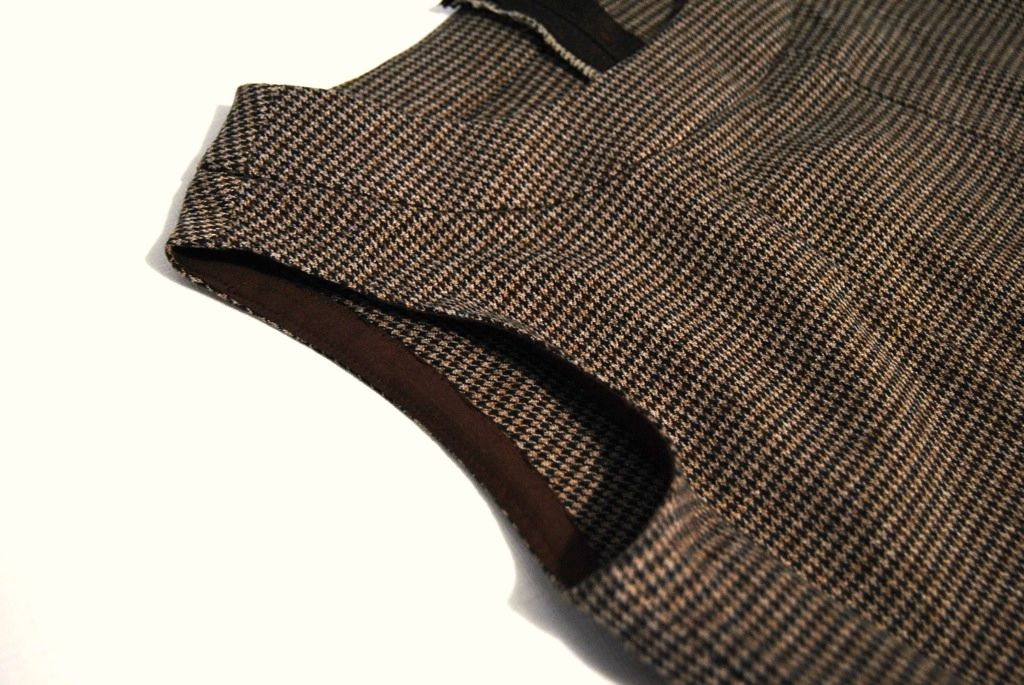 So as I stated yesterday, when I tried it on my niece it was a size too big. This is my own fault. I took her measurements and then did nothing with them. Ha! Not very helpful. But, she will grow and it will eventually fit her. At that time I will then finish the hem and remove basting of the zipper. In the meantime, I will try to make another one. This time, I will change these things: use broadcloth for facings, invisible zipper (or maybe practice my lapped...
sigh
), grade down pattern, check pocket placement and possible move up. I will attempt to grade it down somewhere between a half-inch to one inch total. I think that should be enough, although this time I will *actually* consult her measurements and compare them to the pattern measurements and go from there.
All in all I really like this pattern. I think the pocket placement is too low (I have had that happen on another Project Runway jumper), but other than that and the topstitching, it is a cute and easy dress!
Ever made clothing for wee folks? Was a fun or too much time for something they will outgrow in a blink of an eye?? :)
Have a great Wednesday!