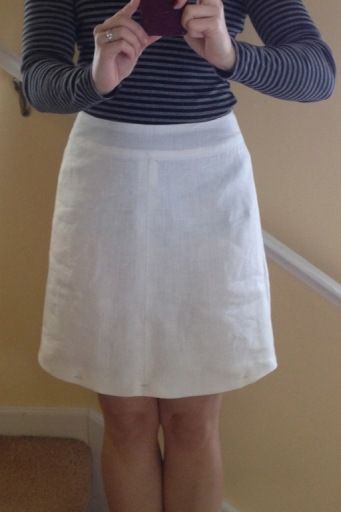 Look, a muslin! And one that looks good! I know in this photo it is slightly off center, but I think it might have twisted when I tucked in my shirt. Otherwise it looks great!
I traced a size 12 from the pattern, and used the "curvy" option for the back skirt pieces. This, compared to the others (slim and average), have two darts instead of one on each back piece. The instructions have you sew the side seams, which have a 1" seam allowance, wrong side together first. I did this and it looked a bit baggy overall and I had too much room in the waist. I shaved a 1/4" off of each side seam and for the second time around sewed it right side together and violà! Perfect. In hindsight I may have been able to just trace off the size 10, but I am not absolutely sure about that.
My fabric is also ready. Weeeee!!! I tossed two wet hot towels in with my wool yardage and put it in the dryer on high(!) for 40 minutes. This felt like the longest 40 minutes of my life ;) The yardage came out fine, still with the same hand but it did lose an inch in width and almost two inch in length. So if you are looking for a way to preshrink your wool, this
technique
may be for you.
I still think I can squeeze
this pattern
out of it even with the loss of a few inches. Especially since I am only cutting one full yoke out of the wool, I will use something else for the inner yoke facing, and I am doing the shortest length for the skirt. I am a nervous girl, so my fingers are still crossed that there will be enough!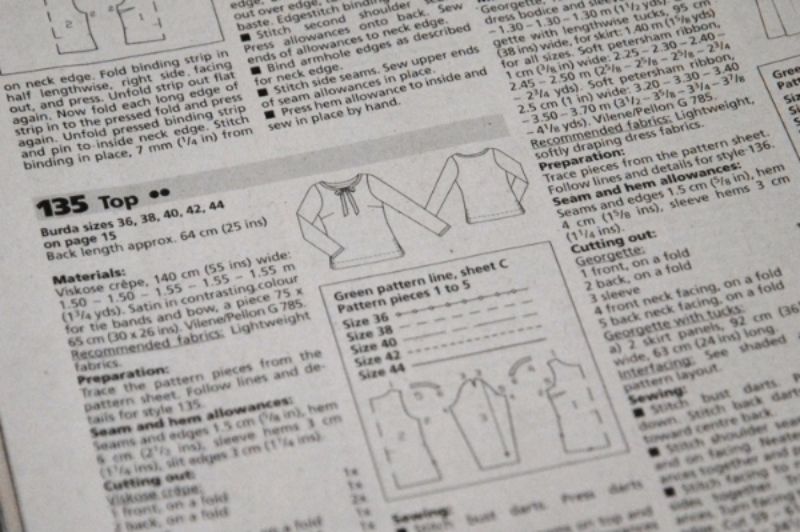 What else did I do yesterday? I traced the Burda top pattern from last month's issue. Have you ever traced a Burda pattern from the magazine before? That is some craziness!! Here is what it looked like when I first pulled it out:
First I had to find the right page (labeled A-D) and then the corresponding numbers and colors for the pattern. The two things I would recommend with this was take your time and NO alcohol until after you are done. Trust me, it did not help one bit :) Thankfully this top only has 5 pieces!
So, what is next? I have to cut the skirt pieces and start assembling since that pattern has received the green light. I also need to muslin the top and make sure that will work out as planned. My swatches from Mood for the top's trim should be arriving soon, so I will post those options as soon as I can. Exciting stuff around here!!
How did your week go? Productive or are you just excited that it is finally Friday?
Hope you all have a great weekend! :)