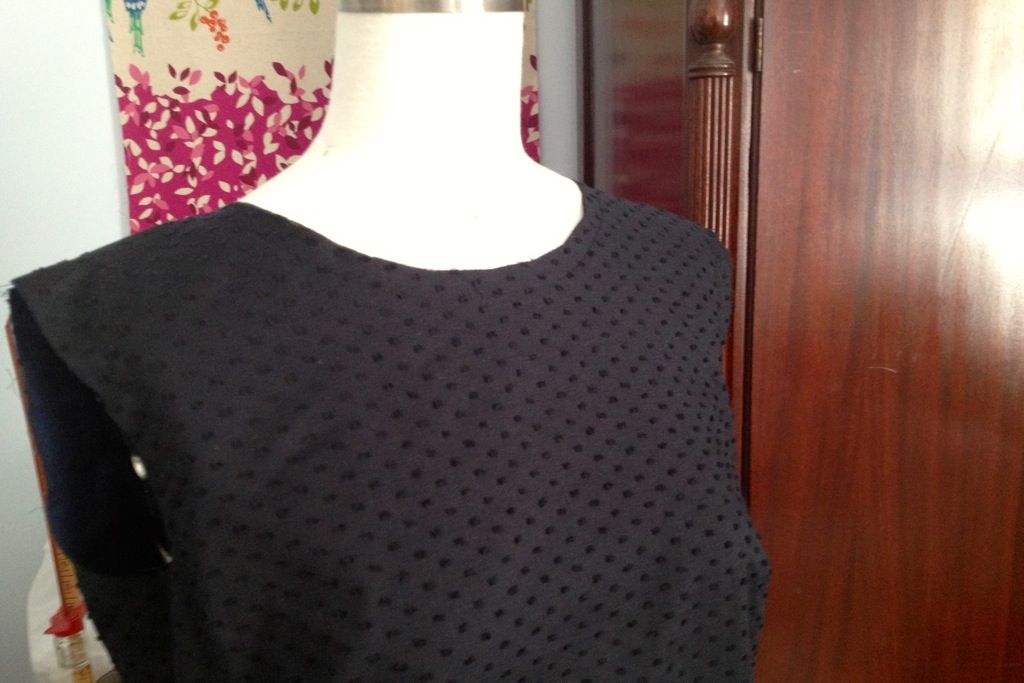 Another crappy phone photo, sorry!
Wearable muslin? Okay, let's be honest. It is a dress.
You know what else I made this week. A muslin. An actual from muslin, or
calico
if it pleases you, muslin. That was on Thursday morning. I knew I wasn't going to wear that tonight to the big Colette event in Boston, but I thought I would just do a test run. Then I tweaked the pattern. Then I decided, what the hell! I can do this. Propped up by all the encouraging words on
Tuesday
, let me repeat Tuesday, I decided late Thursday night that I could just whip this together.
In my stash I had the perfect fabric. A great black swiss dot, leftover from
this project
that is still languishing in my UFO (unfinished objects) pile. The only problem with swiss dot is it is very sheer. I decided at 11 pm on Thursday night that I would use another stash fabric, a beautiful navy batiste from Italy. It might be a voile, but maybe it is just called batiste in Italy? Regardless, that was to be my underlining for the swiss dot. Now the decision to use a fabric that needed an underlining was silly. Not as fast as I could have been with this dress. But it sure is cute!
Friday morning before I left for work, the photo above was where I had left off. If I had been a good girl, instead of having drinks with friends after work, I should have gone straight up to the machine and worked on it. But did I? No. The Chianti we opened was just too delicious. Damn those Italians and their good wine! ;)
After our friends left, I went to my sewing room and made bias tape. What an exciting Friday for me! I was going to install the zipper, but I figured after all that wine, I should do something that was less focused (read: hard to do *not* sober). Instead I brought out the sharp rotary cutter and made bias tape. This sounds like it might have a horrible ending, but it doesn't. I have all ten fingers and toes. I mean, my fingers are burnt from the iron, but still intact.
So as of this morning before I left for work, I have the other sleeve and neckline to bind (I went with the sleeveless option), install the zipper and hem. Honestly, I get out of work early, and if I really push I should be able to get it done. Yay!
Sort of.
Forecast for tonight in Boston
When I woke up this morning it was cold. Spring, that awful tease, has high-tailed it away from the East Coast today. It will be a whopping 49 (not my idea of warm) in Boston today with a low of 33(!) degrees. I don't know about you, but a thin cotton dress is not my idea of fun in cold weather. Walking around in a city. At night. And don't talk to me about cardigans and tights, I know my limits and how much complaining my husband can withstand :)
My wool meringue skirt might be more appropriate, which is honestly fine by me. I rarely get Saturday's off, so I want to enjoy this one. I will work a little bit on the dress today and finish it tomorrow for my niece's 7th birthday party. When it will be sunny *and* 60 degrees. And then I will have a cute cotton dress, I mean wearable muslin to wear ;)
Have a great weekend!