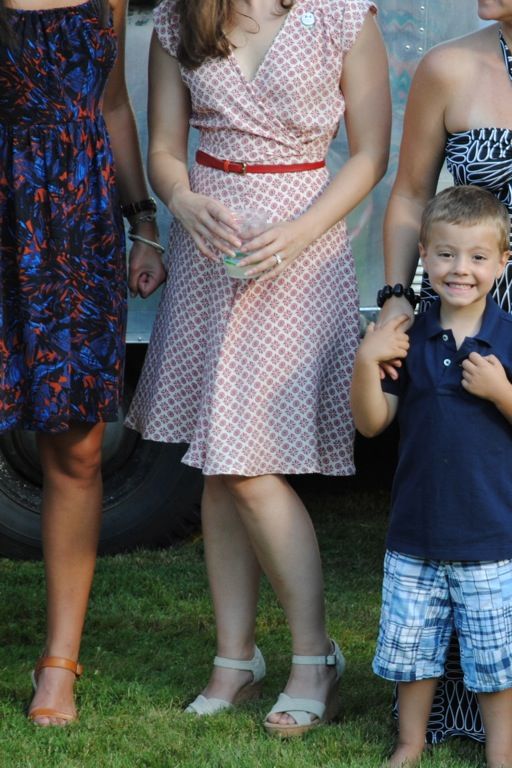 I made this last summer. I know, it has been a long time coming, eh?
I started to make it a week before my sister's engagement party. Sounds like me, right? Hah!
Sunni
was throwing a sew along one day and then big box Joanns had a 99¢ sale on the exact pattern the next day! It was fate right? Obviously. I searched through my stash fabric and settled on another great silk crepe de chine from Mood, one of my first big fabric purchases in 2010. Even though I had never sewn with silk before, I came home sporting 3 cuts of beautiful silk. I used one of the other pieces for
this dress
from this past January. I have one piece left that I think I know what I want to do with. I will put that in my mental-sewing queue.
Anyway. I bought the print with my fabric-purchasing buddy because we thought it had a cute vintage-y style print at the time. When I took it out two years later, it looks a little more western than I had remembered, almost approaching bandana territory. But it was still cute and I thought would work great for the dress. I think I was right!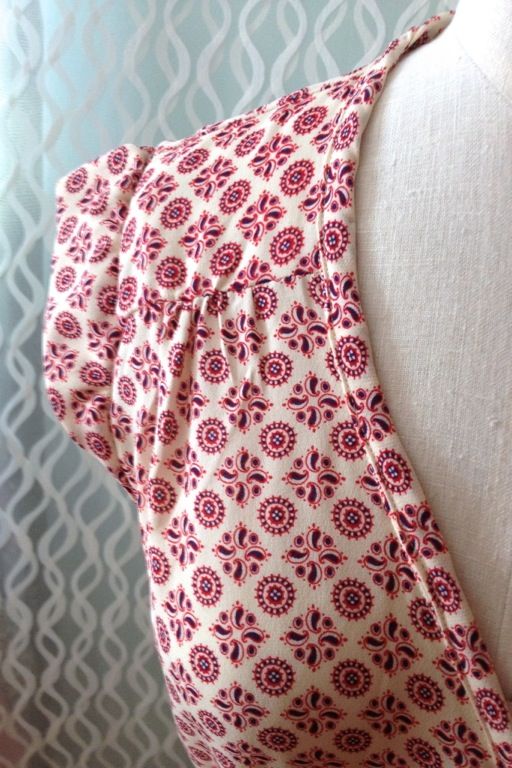 This is
Simplicity 1880
, a Project Runway pattern. This line from Simplicity I actually really like. The ease is not as great as the rest of their patterns, and I like the fact that there are multiple options for each pattern (sleeve type, necklines, pockets, etc.) I traced the pattern and then adjusted the neckline by taking a wedge out, to minimize the gaping I had on my first muslin. I am, without a doubt, small busted, and this was what I found during research to do an sba for a wrap neckline. If you look at the first photo, you might be able to see (maybe?) that I had to cross the fronts over more than I was supposed to. I probably could use to take out another inch or two from the neckline, which I hopefully will correct that in future versions. I noted this on my pattern before storing it, so that I won't run into the same thing again.
One thing I am not 100% happy with are the sleeves. They are self-lined and I am not crazy about them. Whether it was because it was silk, or operator error (or the two combined!), they were a complete pain to get in and I feel like they look a little bulky. If I do make this dress again, I will try to either not lining them or, as Sunni did, and cut them on the bias instead.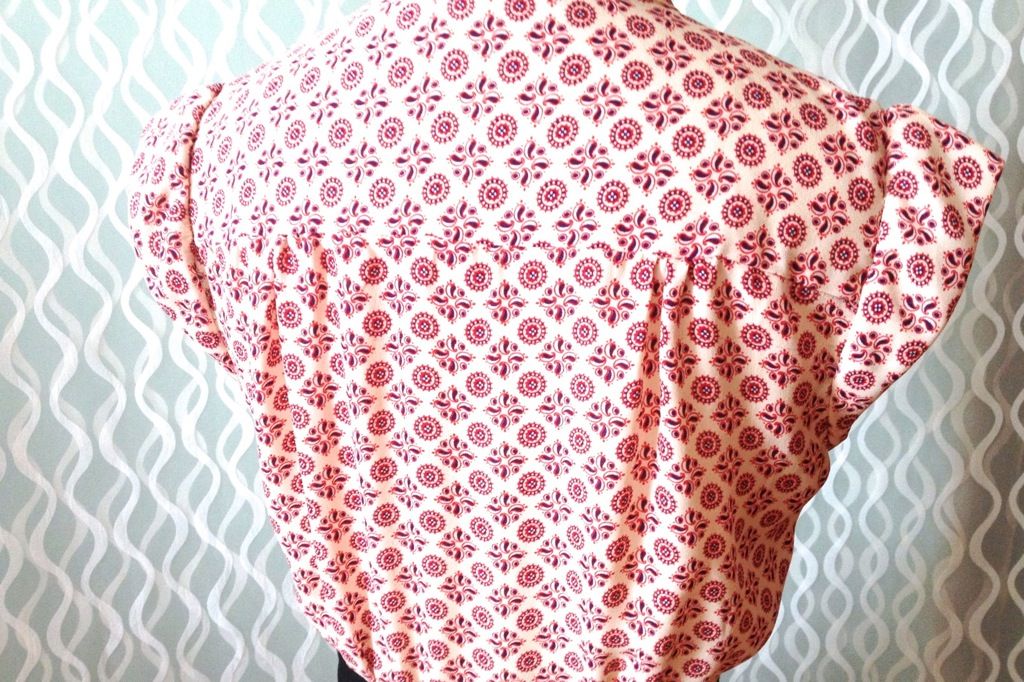 All in all, despite the sleeves, the dress came together pretty easily. I used French seams, my first in silk, throughout the entire dress. The one thing I will note is that the weight of the skirt is pretty heavy on the center seams and even after wearing it only a handful of times, I can see that the seams are being stressed and starting to pull apart. Next time, as I think Sunni did in one of hers, is put a waist stay to help with the weight.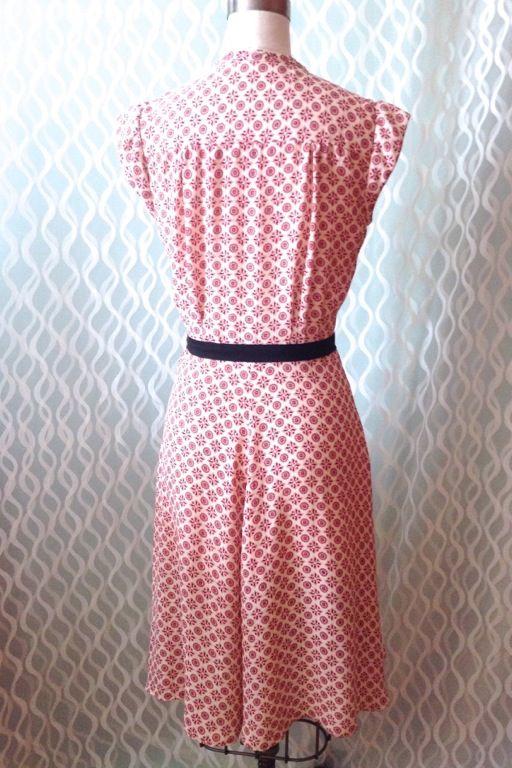 The skirt. Sigh. This skirt is lovely. It is twirly and very feminine. But! If you look at the full photos of every finished skirt (and even on my PGMannequin) you will notice that those pesky center seams fall in between the legs while wearing it and creates a weird fold in the front and the back. Now, this is quite annoying, I thought, and I don't like the look of it. I thought that I could just cut the skirt on a fold, but because of the shaping of the skirt and waistline I don't think that is possible. The other option is to slice out the excess fabric that falls
in
the fold, but I am not sure what that will do to the drape of the skirt. Any other options that I haven't thought about?? Maybe just slap a circle skirt on the bottom instead? These are the thoughts that keep me awake at night ;)
Per Sunni's tutorial, instead of using a facing for the front neckline I made matching bias tape and bound the edges in that. If you look closely, and I assume no one will look that closely at my chest, the stitching wasn't the best, but again, who will know but me? And now you :)
School has started here in the Northeast today and it seems that summer is finally over. That means back to sewing for me. I moved a small desk that I found at an estate sale (only $2!!!) and have placed that back into my old sewing space. Our condo is still on the market so I will have limited sewing supplies, but I don't care. My summer vacation is over and now back to sewing and blogging. Maybe I will go buy a new notebook and some #2 pencils and make a new outfit for the first day back! Do they still sell Trapper Keepers anymore? I think that would be awesome to keep my patterns and notes in. I will have to look around for those :)
Anything on your sewing table for this week? Is summer (or vacation) over where you are? Does anyone remember the Trapper Keeper?!?!?
Have a great Monday!